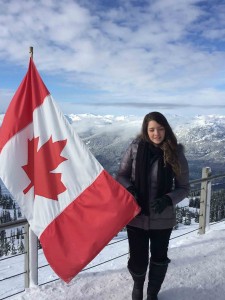 Isadora is a Brazilian student who graduated from EC this year. Here is her story:
Studying at EC
Hello, my name is Isadora Conde I'm from São Paulo, Brazil, and in December of 2015 I arrived at the best place in the world. I couldn't have imagined that I would love Vancouver and EC as much as I did. I lived there for two months and did an intensive course in EC. It was the best choice I made, because all of the classes are very dynamic and the teachers give us the opportunity to develop our English by discussing things we like, not to mention mention the people who work in EC. Everyone there is really nice, and the teachers are amazing and very helpful with everything you want. They became my friends, and I'm going keep their memory with me for the rest of my life.
I was also able to make a lot of friends from around the world.
I improved my English a lot through the classes and the extra classes that EC offered us.
The best thing I did was to choose EC for this experience, they helped me with everything I needed to know about my classes or about Vancouver.
I am very thankful to EC for everything they have done for me.
Advice for Brazilian students
Don't think twice. Vancouver is the best place I have ever visited. The people are very receptive and friendly. And the weather is the last thing you should worry about. The people there are used with the weather so its not a problem.
Comments
comments