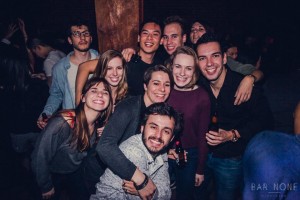 Simon is a Swiss student who graduated from EC this year. Here is his story:
Friends Made in Canada
The advantage of studying in a language school is the opportunity that we have to get to know people who come from other cultures. Life is great and going to school every day with a big smile allows you to easily meet new friends. It's such an important thing to be curious to meet new people. Not only to learn about other people, but also to learn about yourself.
I definitely met a few Swiss people, but I spent many special moments with South Korean people, as well as Brazilian andColumbian friends. All of those people were so generous, lovely and funny. We always have a lot of respect for each other even though we came from different countries. All of the moments we shared at school, while travelling around Vancouver Island or at parties in  Vancouver, definitely helped us build strong and real friendships.
The difficult part is still to keep in touch with other people as soon as we are back in our country. In November, two of my Korean friends will come in Switzerland and I've already planned to fly to Brazil next winter.
Life is too short to be boring!
I thank every people I met for their beautiful personalities. Thank you to EC as well. The people at front desk were really nice to everybody. I really appreciated it 🙂
Comments
comments