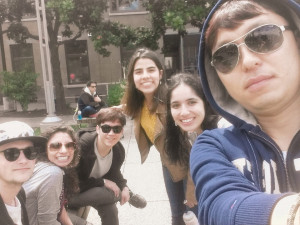 Joohwan is a Korean student who graduated from EC this year. Here is her story:
Friends Made in Canada
The most exciting and memorable thing about my time in Vancouver was making friends. They are from Mexico, Colombia, Switzerland, Italy, Japan, Brazil, Turkey and Saudi Arabia. We exchanged our Instagram and Facebook accounts. We're sharing our information every day. When I was in Vancouver, we almost always met at EC or at Starbucks. There are cafés like Starbuck and Tim Hortons right next to EC Vancouver. It was very useful. I made a lot of friends through EC. I could meet my EC friends at The Cambie bar every Thursday. It was also very joyful experience, and I went there twice per week. All of friends of EC are in my memory now.
Advice for Korean students
If you want to study hard, you should prepare your mind. If you want to make a lot of friends, you have to prepare your body. If you want to save your time, you can stay in downtown. If you want to save your money, you can use a homestay.
======
Comments
comments