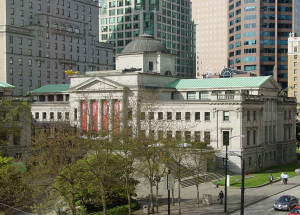 It's November, the weather's getting a little colder, and it's starting to rain more and more. It's not quite cold enough for outdoor skating, skiing, snowshoeing or snowboarding, but it's not quite warm enough for hiking or going to the beach. So what do we do? Over the next few days, we will give you some ideas for some great indoor activities that you can enjoy in Vancouver.
The first attraction on our list is the famous Vancouver Art Gallery. The Vancouver art gallery has been around since 1931 and has over 10,000 works of art! One of the artists whose work is featured at the Art Gallery is the late Emily Carr. Her paintings were known for being heavily influenced Canada's indigenous cultures, and the beautiful natural landscapes of British Columbia.
In addition to Emily Carr's Collection, there is a lot of other art from other Canadian artists to be admired at the Art Gallery. The best part, you don't have to spend a lot of money. The entrance fee for adults is usually $24, but if you go on Tuesdays between 5 and 9, you can pay with however much you would like to donate!
Comments
comments