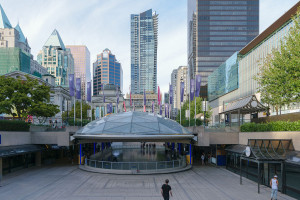 Yesterday, we shared a little bit about Vancouver's famous Art Gallery, but have you ever wondered what that big open space is behind it? We can't talk about Vancouver without talking about its biggest outdoor plaza, Robson Square.
Robson Square, Located at 800 Robson Street, is Vancouver's Town Square, and it is the center stage of many of the city's most popular outdoor events and activities. At this beautiful landmark, you can find government buildings, UBC Robson Square, and a public ice rink for free skating. The best part is, even though the rink is outdoor, it is sheltered by a glass dome, which means you can enjoy some skating, no matter what the weather is like. In the warmer months, the rink is used for dance events and open practices.
In Vancouver, many outdoor concerts, festivals and other events that draw out crowds of people, are held at Robson Square. A notable example is the Vancouver International Jazz Festival. If you want to learn more about Robson Square, you can visit the official Robson Square Website.
======
Comments
comments