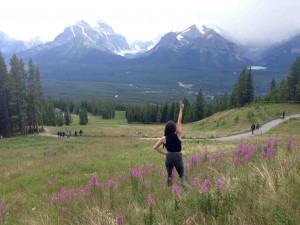 Ingry is a Colombian student who graduated from EC this year. Here is the story of her studies in Vancouver:
Studying at EC
At first, I felt a little bit nervous about all I was able to find in Vancouver, but EC's kind staff made me feel comfortable and safe. I have wonderful memories in this awesome cosmopolitan city. One has the potential to experience a lot of different places. In my opinion, it is a perfect city because you can find a natural part and a modern part together. In my case, my favorite places are the forests, mountains, clean air, rivers, beaches, and lakes.
Secondly, EC Vancouver has some activities every week that can help you to know more about this city. I visited Deep Cove, Capilano, Lynn Canyon, Stanley park, Elizabeth Park, English Bay, VanDusen Garden, Deer lake, Lighthouse Park, Whistler, Rocky Mountains, UBC Botanical Garden, Cleveland Dam, Kitsilano Beach, Victoria, Granville Island, Vancouver Aquarium, Grouse Mountain, Roger Arena, etc. If you go to Vancouver, you will enjoy these places and fun activities.
Finally, if you are planning to come to Vancouver, this school is an excellent option because you will meet a lot of people from different countries and you will understand your behavior. You will have a fantastic time improving your English and experiencing new cultures.
Advice for Colombian students
Do not feel afraid about a new country, because a lot of opportunities and incredible people are waiting for you.
======
Comments
comments