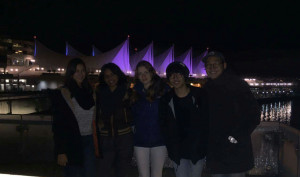 Linda is a Colombian student here at EC this year, who volunteered to share with us about her EC Vancouver Experience. Here is her story:
Life in Vancouver
I came to Vancouver with one goal, and that was to learn English. I will go back to my country not just with English, but also with another perspective on life and how beautiful the diversity of every culture in the world is. I've made many special memories. It's hard to choose which one is the best. Without a doubt Vancouver is amazing. There are many things to do and the people are lovely. If you get lost in Vancouver, you will have help. That has happened to me several times. My life here was awesome and I really loved and enjoyed it. Even though I had crutches for almost whole my experience here, those crutches and my special boot helped me meet new people. A lot of people always asked me about it, so I had the opportunity to talk a lot and broaden my mind as much as I wanted. I met many people and made close friends who, even though grew up in a different way, had very similar experiences to mine.
Although I had a cast, I tried to do many things, and see a lot of places and marvelous landscapes. My desire was to always have a smile, and to take advantage of my stay in Canada. It was not just to learn English, but also to learn about life, true friendships, and the unimaginable things the can be learned from other cultures.
I want to say thank you to the EC staff and my greats teachers. Thanks to my friends as well, who gave me many tips for my life. I won't forget anyone. I hope that you have a successful life.
Advice for future students
My advice for all the students is… please be easygoing, outgoing, and persevering in improving your English skills. Moreover, don't feel homesick because you miss home, try to take advantage of the fact that you are in another country, having a great experience, and enriching your mind. You are only going to stay here for a short part of your life. I know that in the beginning it looks long, but it isn't. I hope that you make amazing memories.
Also, if you want to learn and have fun at the same time, you can join many clubs downtown, and participate in sports, dancing, painting, or whatever you want.
======
Comments
comments