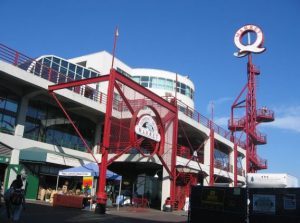 "The Quay (pronounced 'kee' but some say 'kay or qway') If you take the SeaBus from Waterfront Station, it will sail over to Lonsdale Quay. It's a really fun, short trip to take and the SeaBus brings you past some of the big cargo ships in the port on route so you can get a better idea of how big some of those ships are!
The crossing takes about 12mins or so and when you get out of the terminal, turn right and keep walking and you'll see a fountain and a viewing area where you can see a part of Downtown Vancouver. It's especially pretty at night!
During the day, there is an indoor market where you can find a host of foods, crafts, clothing and beverages. It makes for a pleasant afternoon and it's worth a trip.
It's normally classed as 2 Zones on a Transit ticket but if you wait until after 6:30 pm it'll be the price of a 1 Zone transit ticket.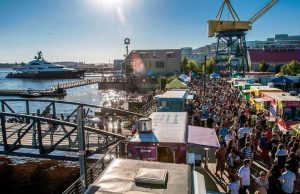 Stop by Shipbuilders' Square for the Shipyards Night Market on Fridays between May 5 to September 29, 2017, where you will find fresh food, locally made products, musicians, art and entertainment. The  festivities in the Square kick off at 5pm. On the Shipbuilders' Stage there is live music until 10pm, showcasing talent from all over BC.
——–
Planning to come to Canada to improve your English skills? Check out EC English Language School in Vancouver!
Comments
comments