Wildfire in British Columbia
If you are living in Vancouver or if you are just visiting, you certainly must have noticed the smoke surrounding the city.Metro Vancouver has been affected during the last couple of weeks by a huge wildfires in British Columbia.
The famous lakes, hiking trails and natural attractions are not being recommended due to the bad air quality.
The province of British Columbia has been facing the worst fire season in 6 decades and remains under a state of emergency. More than 7 thousand people are in alert to leave their homes. Due to the dry and hot weather, the situation is getting worse everyday.
The summer season usually is the happiest season of the year for Canadians. Summer means parties, camping, stars and bonfires. This year, more that a half of the wildfires have been caused by humans.
According to Chief information officer Kevin Skrepnek, almost 5000 square kilometers have been burned across the province to date.
The government of BC issued some wildlife prevention's:
Prevention means stopping wildfires before they start. Discarded cigarette
butts, campfires, hot exhaust pipes coming into contact with dry grass and vegetation, power tools (such as chainsaws), Tiki torches and even discarded glass can all ignite a wildfire.
It is important to exercise caution when in the outdoors, not only when enjoying a campfire or off-roading in the backcountry, but also in using tools and handling, storing and disposing of materials and fuels.
Campfires
Many British Columbians and visitors to our province enjoy campfires. To prevent your campfire from turning in to a wildfire be sure to;
Check current campfire restrictions for the area you are in
Select your campsite and campfire location carefully
Remove all leaves, twigs and other flammable material from the area around where you plan to light your campfire
Never have a campfire when it's windy
Choose a proper fire pit or make a ring of rocks at least three meters from trees, shrubs, structures and debris
Do not leave a campfire unattended for ANY amount of time
Keep a bucket of at least eight liters of water close by the fire at all time, and/or a hand tool (such as a shovel) to extinguish the fire properly
Completely extinguish your campfire before you go to sleep or leave the area for any period of time.
To extinguish your campfire, pour plenty of water on the fire and surrounding area, dousing the site of the campfire thoroughly. Stir the campfire until there are no embers and the ashes are cold to the touch.
Other Fire Prevention Considerations
Do not discard smoking materials from vehicles. Always use interior ashtrays.
Motorized vehicles, particularly All-Terrain Vehicles (ATVs) and dirt bikes, can produce a significant amount of heat from their exhaust systems. This heat can be enough to spark a wildfire. Avoid operating any motorized vehicle in tall grass and vegetation when the weather is hot and dry.
Bans and Restrictions
Depending on current and anticipated weather conditions, as well as existing fire activity, the BC Wildfire Service may implement bans and prohibitions that restrict the use of open fire (including campfires) as well as items such as fireworks, Tiki torches, burn barrels, sky lanterns, and other potential fire-starting equipment's
ent. These prohibitions are put in on a regional basis, and affect all Crown and private land not under the jurisdiction of a local authority (such as a municipality or First Nation).
For details of the current fire bans and restrictions in the province see the Fire Bans and Restrictions page. If you are within the jurisdiction of a fire department or local authority, contact them before having any manner of open fire (including fireworks, etc.).
If you see a fire…
Report wildfires and columns of smoke to 1-800-663-5555 or *5555 from a cell phone.
(Source: http://www2.gov.bc.ca/gov/content/industry/forestry/managing-our-forest-resources/wildfire-management/prevention/outdoor-recreationalist
http://globalnews.ca/news/3585284/b-c-wildfires-map-2017-current-location-of-wildfires-around-the-province/)
Are you thinking to study English in Canada? Meet us at EC English Language School in Vancouver!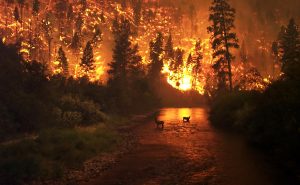 Comments
comments