Summer is here and many of you are planning to go to Whistler to enjoy more of BC! If you want to have a thrilling experience, you should try out bungee jumping! Whistler Bungee is one of only two licensed bungee jumping spots in BC and is located around a 15-minute drive south of Whistler Village.
Jumping from a 50 meter bridge above the glacial-fed Cheakamus River sounds crazy but it is absolutely worth a try. Even if you are not going to jump, you will have a good time walking over the bridge and watching other people do it!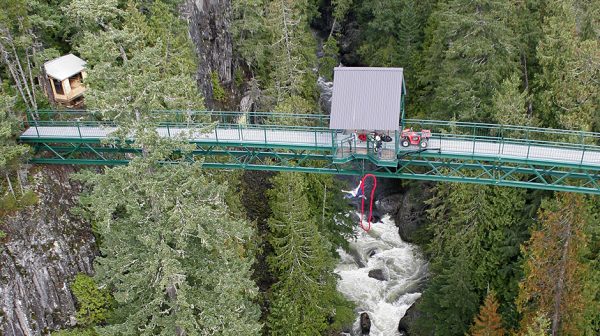 One of our staff members, Kailey, tried it a few years ago and she described her experience as "it was one of the most TERRIFYING, extraordinary but exciting experienceS I've ever had!". They are open every day throughout the year in all weather conditions. Too scared to jump on your own? Don't worry, you can jump with you friend to share or divide the fear in half! Don't run away from your fear, face it!
Please visit Whistler Bungee website to find more information such as location and price!
—–
Planning to come to Canada to improve your English skills? Find out more about English Courses in Vancouver!
Comments
comments