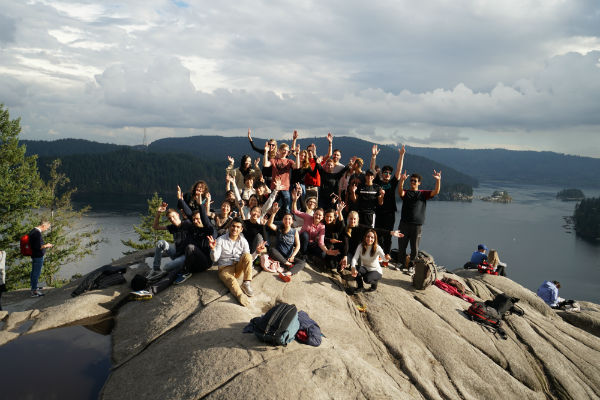 EC Vancouver offers different activities after school on two days every week. Students can sign up for these activities on EC online and join them together with their classmates. The group meets at the school's front desk to spend the afternoon together and to engage in different activities in and around Vancouver.
A very popular destination is Deep Cove in North Vancouver to hike to Quarry Rock. It's quite a journey to go there by bus but students already make friends with each other on the bus and get to enjoy the beautiful views. Once the bus arrives at its last stop which is in Deep Cove, the students leave the bus with excitement and are curious to explore the stunning nature.
The walk from the bus stop to the actual hiking path already reveals how amazing Canada's nature is. Most students have never seen anything like that in their lives before, so they are extremely impressed and take a lot of photos. Entering the official hiking path is comparable to entering another world. From one moment to the next you are surrounded by trees and plants only and you feel as if you are in the middle of the rainforest.
The hiking path leads you up and down on wooden stairs and you walk over unique wooden bridges to cross astonishingly clear creeks and small waterfalls. Several stops along the way leave enough time to take pictures of everything and to enjoy the silence and idyll away from the big and noisy city. Sometimes these breaks are also needed to catch your breath as the hike can be quite breathtaking – not only because of the views but also because of having to climb stairs and even roots. It is important to bring the right shoes, enough water and to be prepared to exercise – locals often use the hiking path to work out.
Once you reach the end of the path you will find out that it was all worth it. The enormous rock the path leads to is called Quarry Rock. Sit down and enjoy Canada's beauty. Most students say that the view from there pictures exactly how they imagined Canada's nature to look like. You can see tree-covered mountains, the ocean and far away the city. If you're lucky you can see seals, eagles and people canoeing. This place is so beautiful that it should definitely be on your list of things to see while you're in Vancouver.
You will have enough time to take pictures and relax with your friends. Take home some nice memories, amazing photos and look forward to more activities with all the people you met on that trip – your new friends. Before taking the bus back to EC school, you might have time to drink a coffee at Honey's Doughnuts, one of Deep Cove's popular stops.
Check out EC's monthly activity calendar to find out more about our recent activities and sign up for them on EC online. It's a great opportunity to discover places in and around Vancouver and to meet other students from all over the world.
=====
Do you want to improve your English? Check these English courses in Vancouver!
Comments
comments