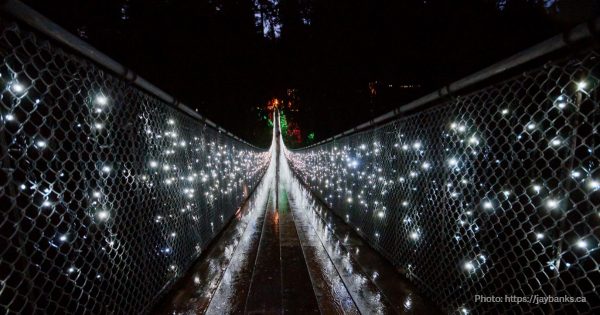 The Capilano Suspension Bridge itself is already a popular tourist attraction but around Christmas time it turns into a Winter Lights Festival. If you have booked your English courses in Vancouver some time between November 22, 2018 and January 27, 2019 you get to enjoy this special event on your visit to see the Canyon Lights at the Capilano Suspension Bridge.
Experience the Canyon Lights within the park hours from 11 am to 9 pm. They will make you feel like you are in a Christmas movie. If you do not want to wait in line for a long time, we recommend going to the Capilano Suspension Bridge on a weekday instead of a weekend and before December 21st or after January 6th.
The beautiful lights all over the park are amazing and will give you the perfect feeling of the holiday season. Not only the suspension bridge is lit up but the Canyon Lights also illuminate all of the treetop-walks, the Cliffwalk, the canyon itself and large parts of the rainforest around the bridge. This overwhelming spectacle will create memories you will never forget.
Another highlight of the Canyon Lights Festival are the eight 110 feet tall Douglas-firs which are 250 years old. Seven suspension bridges connect the trees' viewing platforms. Below and above these viewing platforms the trees are decorated with lights as well. If you go to see these trees you can say that you've seen the eight highest Christmas trees worldwide.
Although the Canyon Lights are mainly about the amazement with the lights, there are some other activities you can participate in. You're welcome to sing along to your favorite Christmas songs performed by a band and to get creative by decorating your gingerbread cookies there.
Like we do for all of our activities, we recommend bringing your camera to take some nice photos. Please dress for the outdoors and wear warm shoes. Enjoy your visit at the Canyon Lights!
Comments
comments