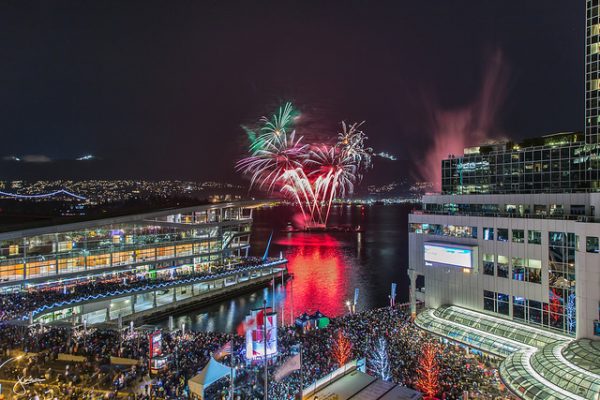 You get a break from your English courses in Vancouver on Tuesday, January 1, 2019 because it is a holiday. But New Year's Eve on Monday, December 31, 2018 is not a public holiday so businesses usually have their regular opening hours. There will be fireworks, festivities and parties around Vancouver and Public Transit will be FREE from 5 pm on Monday, December 31, 2018 until 5 am on Tuesday, January 1, 2019.
To celebrate the end of the old year and the start of the new year people come together in different constellations. Some prefer small private parties with close family members or a few good friends and others like big family parties with every single member of the family or parties with all the friends they know. There is also the option of joining a giant New Year's public street party outside and getting to meet new people there.
In Canada people usually look at fireworks, open champagne bottles and toast to everyone's health, go skiing and snowboarding, or go fishing at a lake. In Vancouver you can celebrate at Canada Place, at the ski hills and at different night clubs.
There will be fireworks in Burrard Inlet taking off at 9 pm and 12 am from the water near Canada Place and you can see them from Coal Harbour, Stanley Park and North Vancouver. A free New Year's Eve street party with live music is happening along Canada Place Way or you can get tickets for parties at the Convention Centre. Fireworks at 9 pm are part of Grouse Mountain's Peak of Christmas activities on New Year's Eve. There will be evening laser tobogganing, fireworks and other activities at Mount Seymour. Enjoy free music and walk around a labyrinth at St. Paul's Anglican Church at 1130 Jervis Street.
On Tuesday, January 1, 2019 people go for icy swims in the ocean called Polar Bear Swims. Around here you can go to English Bay in Vancouver, Deep Cove in North Vancouver, Rocky Point Park in Port Moody, or Boundary Bay Regional Park in Delta.
Have a great party night and Happy New Year!
Comments
comments