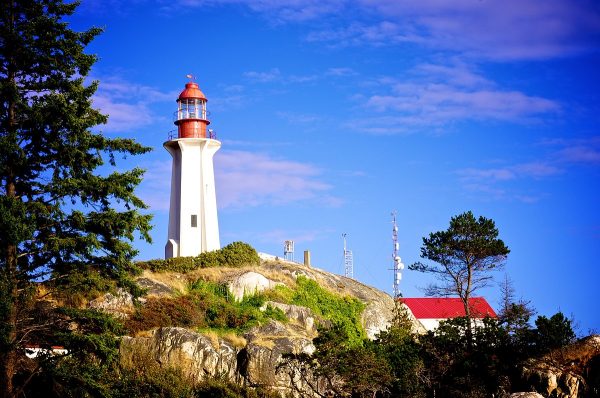 The Lighthouse Park in West Vancouver is a beautiful park to visit. There are many walking and hiking trails stretched over 185 acres = 75 hectares = 0.75 square kilometres. You are here to learn English in Canada but you will have time in the afternoon after your classes to explore Canada's amazing nature.
It is easy to go there by bus from downtown. You can take bus 250 to Horseshoe Bay from West Georgia Street & Seymour Street. After 40 stops, approximately 45 minutes, you get off the bus at Westbound Marine Dr @ Beacon Lane. From there you walk about 600 meters, approximately 8 minutes, to the Beacon Lane parking lot. You will have several options for hiking trails starting there.
The most popular hike is the Beacon Lane Trail as direct route to the Lighthouse viewpoint. There is no public access to the lighthouse but you can see it from the viewpoint. It will take you around 25 minutes to walk from the parking lot to the lighthouse.
Besides the lighthouse at Point Atkinson there are three other viewpoints. Eagle Point is east of the lighthouse and offers a beautiful view of the city, Stanley Park and the Lions Gate Bridge. You can reach Eagle Point by using Valley Trail, Arbutus Trail and Valley of the Giants Trail.
Shore Pine Point and Juniper Point are located north west of the lighthouse. From there you will have a breathtaking view of the ocean. The West Beach Trail and Shore Pine Trail will take you to the Shore Pine Point. Juniper Point can be reached by Juniper Loop and Juniper Point Trail.
Picnic tables and washrooms can be found all over the Lighthouse Park. Most trails are rather short and manageable regardless of your fitness level. Please wear good shoes as there are some challenging trails and be prepared for the outdoors. Bring your camera for some nice shots of birds, the ocean, the city and the old forest.
Comments
comments