Hey Ben! Happy Birthday!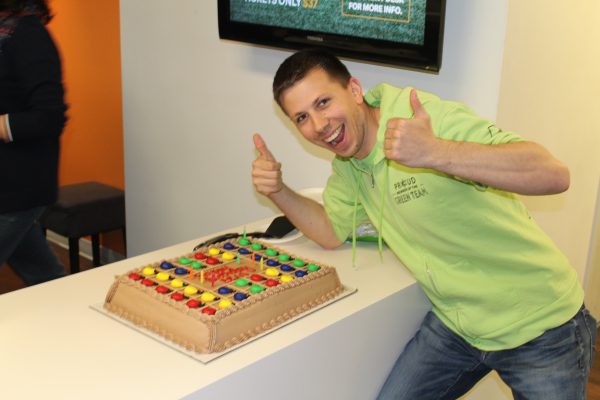 Ben's 25th birthday was last week during graduation on Friday, May the 17th! From everyone here at EC Vancouver and EC Languages Centres, we wish you a happy birthday and hope that you enjoyed the long weekend! Your birthday arrived at a good time!
Ben is a part of the Discover Canada Tours company which is in partnership with EC Vancouver. Discover Canada Tours is based in Vancouver and they offer unique travel and sightseeing experiences in Western Canada. They also have tours for the American West Coast / Rockies. Popular destinations include Seattle, Tofino BC, Whistler, Victoria, and the Yukon.
You may find Discover Canada Tours or Ben on the third floor most days. They will be very happy to help you and take you around Vancouver!
EC Languages Centre is a Languages Canada members in good standing. Our Designated Learning Institution (DLI) number is O19280217882. EC Vancouver offers ESL courses, programs, free events, contests, prizes, tours and so much more! To learn more about our school or program, please visit our website at www.ecenglish.com or phone 604-683-1199 to speak with our staff members. Nonetheless, you may also contact us by reaching out to our social media profiles at @ec_vancouver on Instagram and @ecenglish.vancouver on Facebook.
EC Language Centre is a school of English for international students with locations in Malta, Canada, USA, Australia, New Zealand, Ireland, South Africa and the UK. We have levels ranging from elementary and beginner to advanced and complete proficiency. EC Vancouver also has test preparation programs for IELTS, university pathway and Cambridge based exams. Not to mention our free classes and one-on-one private lessons, contact us today to book your free trial lesson and experience the orange carpet yourself!
Comments
comments