To us, visiting the Capilano Suspension Bridge Park is one of the MUST DO'S  in Vancouver. It brings you close to nature and the height and beauty of the trees and cliffs are simply humbling.
A big advantage is that you can take a free shuttle bus from Canada Place and it takes around 15 minutes to get there. Easy and simple!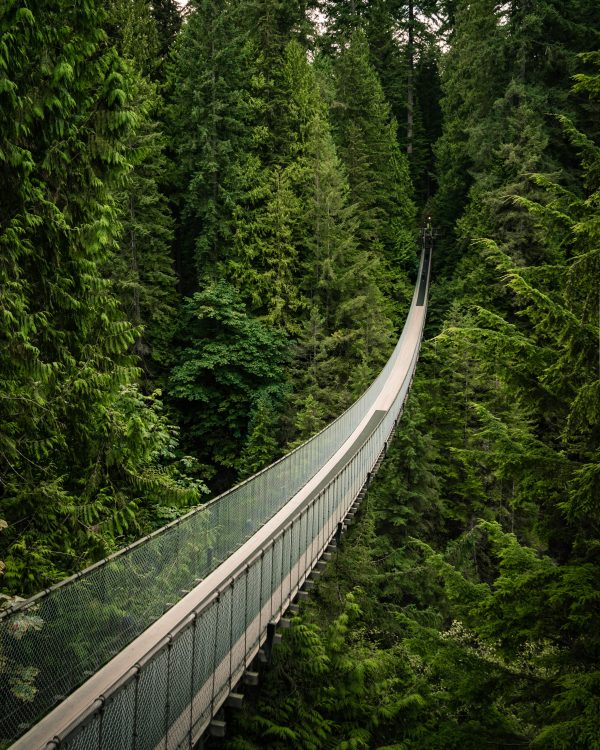 Entry to the park as a student costs $33.95. It's totally worth it because the park itself has many things to see and do. People usually spend 4 hours inside.
Upon entering the park, you walk along an exhibition that gives you information about the first nations people and the aboriginal culture of Canada.
After that we went to the famous Suspension Bridge, which is 140 meters long and 70 meters high. The view is spectacular and amazing because its unique and one of a kind.
On the other side of the River, there are places to drink, eat poutine, relax and unwind while also seeing the beautiful animals around the areas.
Going back, you can also do the cliff walk. If you are scared of heights I wouldn't recommend doing it because parts of the bridge are made out of glass and it can be scary. Moreover, the park is impressive and unique. You see the surroundings from a totally different point of view giving you an idea of being close to the nature and away from the big city.
EC Vancouver and EC Language Centres is accreddited by PTIB and many other institutions around the world. We have locations around the world, including New Zealand, Ireland Canada, USA, Australia, Malta, UK, and South Africa. We have general English courses as well as test preparation programs like IELTS and Cambridge based exams.
To learn more, book your free trial lesson with us today and experience the orange carpet yourself!
Comments
comments