Aaaaaaaaaaand we have a winner!! Congratulations Elizabeth De Matos Nascimento! 
Late last month, Elizabeth De Matos Nascimento won tickets to the Vancouver Lookout during our weekly raffle at the graduation ceremony.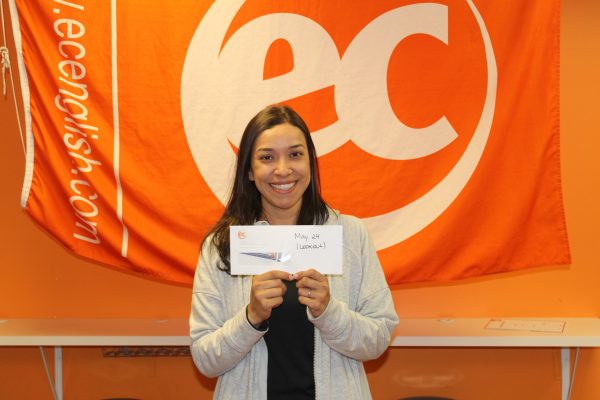 We host the graduation ceremony every week on Friday, and sometimes Thursdays if its a long weekend or if its a holiday. During the graduation ceremony, we also have raffles, or in other words lottery for various prizes, tickets and awards. Some examples of our prizes include tickets to Flyover Canada, Suspension Bridge, Vancouver Aquarium, Vancouver Lookout, or EC t-shirts and mugs.
Elizabeth De Matos Nascimento is from Brazil and studied General English with us here in our ESL program. The Vancouver Lookout is housed on the top floor, inside Harbour Centre. Harbour Centre is located in the heart of downtown Vancouver.
The experience is definitely awe-inspiring and is a once in a lifetime because you get to see Vancouver like never before! The Vancouver Lookout viewpoint is unique and spectacular. We recommend that you go to the Vancouver Lookout in the morning so that you can also enjoy the view again at night as the ticket allows multiple entries per person. In other words, entry to the Vancouver Lookout viewpoint is unlimited per day.
Experience Canadian culture and Learn English in Vancouver with EC Vancouver and EC Language Centres. Our English levels range from basic elementary to complete proficiency. We also have test preparation courses for IELTS and Cambridge CAE/CPE/FCE. To learn more about our ESL programs, contact us using our social media profiles or visit our website.
Above all, congratulations Elizabeth De Mators Nascimento! Tag us on facebook and instagram by using that hashtags #ECExperience and #ECVancouver
Comments
comments