Winner winner chicken dinner! A big congratulations to Gleicielle! 
Gleicielle Boas Da Silva won tickets to Capilano's Suspension Bridge on May 24th during our weekly graduation ceremony!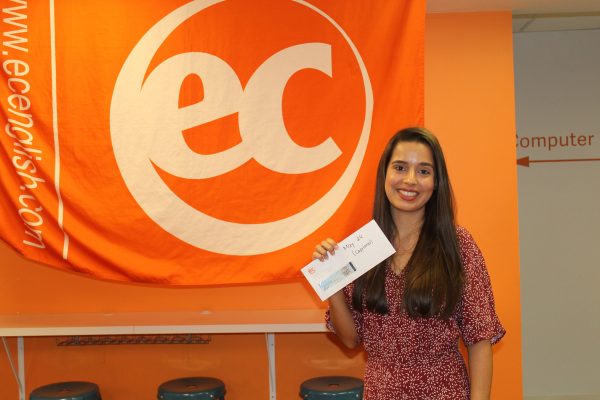 With that in mind, we host the graduation ceremony every week and have raffles for various prizes and tickets to the Vancouver Lookout, Flyover Canada, Suspension Bridge, Vancouver Aquarium, and much more!
Gleicielle Boas Da Silva is from Brazil and is currently studying General English with us here in our ESL program. Capilano Suspension Bridge is a marvelous experience for tourists and locals due to its exotic nature. It is definitely a must do if you're in the city. Moreover, there's a free shuttle bus from Downtown Vancouver that takes directly to the park.
Here at EC Vancouver and EC language Centres, we go the extra mile as part of our ethos and culture. We make sure that you receive the best education and experience possible. In addition, our programs and courses focuses on the student's weak aspects of their English skills and help them advance to post-secondary institutions.
Experience Canadian culture and Learn English in Vancouver with EC Language Centres. Our English levels range from elementary to proficiency. We also have IELTS and Cambridge courses.
As mentioned earlier, we have raffles and prizes during our weekly graduation ceremony so make sure that you join us to take part in this beautiful opportunity! Congratulations Gleicielle. We hope that you enjoy the Suspension Bridge and take many pictures! Share your time and experience in Vancouver with us on social media by using the hashtags #ECExperience and #ECVancouver
Furthermore, please follow us on Facebook and Instagram to receive updates about holidays, events, programs, tours, and much more! Join EC Vancouver today to explore the beautiful province and the city of Vancouver and its multiculturalism.
Comments
comments