Open Mic is here!
Music is an international language spoken by everyone. Everyone loves music for its calming effects and transcendental aura.
With that being said, EC Vancouver is hosting an open mic every week on Friday from 2 to 3 at Level zero. Whether you sing, or play an instrument like the guitar, bass, or ukulele, come join us and jam with everyone! This is a great opportunity to experience music and meet friends from different cultures and background.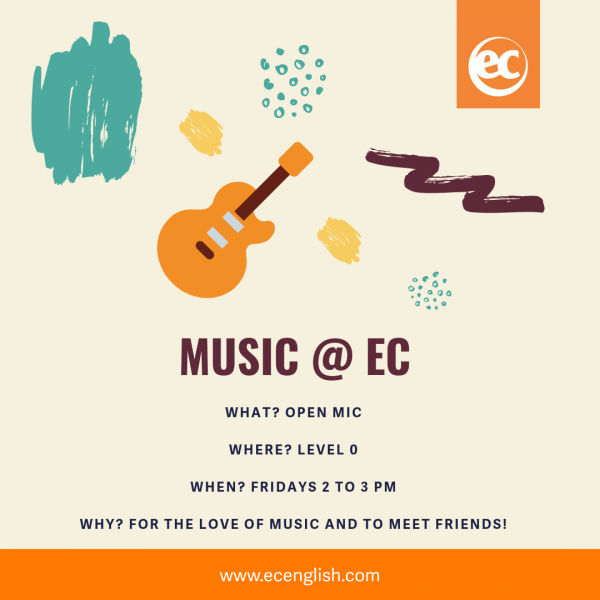 If you don't play an instrument but would like to join us, then that's fine as well! Everyone is more than welcomed to join us! Come and cheer everyone performing! The more, the better! Please note that this event is for registered EC students only. You're advised to bring your own instruments, however we also have a guitar and amp ready in house to be used!
Open Mic Day @ EC
What? Open mic day for everyone to perform and enjoy!
Where? EC Vancouver – Level 0
When? Fridays, 2pm to 3pm
How? Just show up and take part of this event!
Why? For the love of music and to meet new friends!
Music truly brings people together. Nonetheless, EC Vancouver is an English school for international students. We have levels ranging from basic elementary and beginner to complete proficiency and advanced. Not to mention our test preparation programs like Cambridge and IELTS.
EC Vancouver is located on the second floor at 570 Dunsmuir Street, downtown Vancouver. We have campuses all around the world in 8 countries. Including Canada, United States of America, Ireland, United Kingdom, South Africa, New Zealand, Australia and Malta.
Check out our other blogs and social media feeds to learn more about EC Vancouver's events and activities. We have events and activities every week! So make sure you check it out and register online using your EC English student account.
Comments
comments