June 21st Graduation Ceremony & Raffle
Winner winner chicken dinner! A big congratulations to Airi Motoyoshi from Japan! She is one of the two lucky winners! Airi won free tickets to the Vancouver Aquarium on June 21st as part of our weekly raffles that we host every Friday during graduation! Airi also graduated from our General English program. We will miss her and wish her a wonderful career!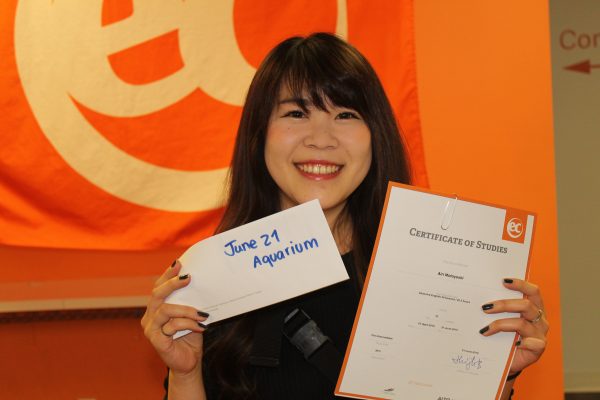 Every Friday during our graduation ceremony, we also host a raffle where we give out many free tickets and prizes! For instance, prizes includes tickets to the Vancouver Aquarium, the Vancouver Lookout, Flyover Canada, Capilano Suspension Bridge, and much more!!
Above all, EC students are welcomed to join the graduation ceremony and take part of the raffle! Taking part of the raffle is easy, all you have to do is to show your EC student ID card and have no Xs or red marks on the back of your card. We reward those who speak English as per our school policy of English-only!
EC Vancouver
To learn more about EC Vancouver's English as a Second Langauge programs, events, or activities, please contact us by reaching out to our social media platforms or by visiting our website. EC Vancouver is located at 570 Dunsmuir street, Vancouver, BC V6B 1Y1. We are located on the second and third floor. The main entrance is just across the seven-eleven store.
Nonetheless, Learn English in Vancouver and explore the different opportunities the city has to offer and provide for you. Studying English with EC Vancouver and EC Language Centres is a once in a life time experience. This is a great way to kickstart your English and various skills to settle in a new country and environment. English language is crucial to settling in Canada and North America.
Comments
comments