Karol studied at EC Washington for over 3 months and progressed from a pre-intermediate to an intermediate level. Here she reflects on her time learning English in Washington, DC: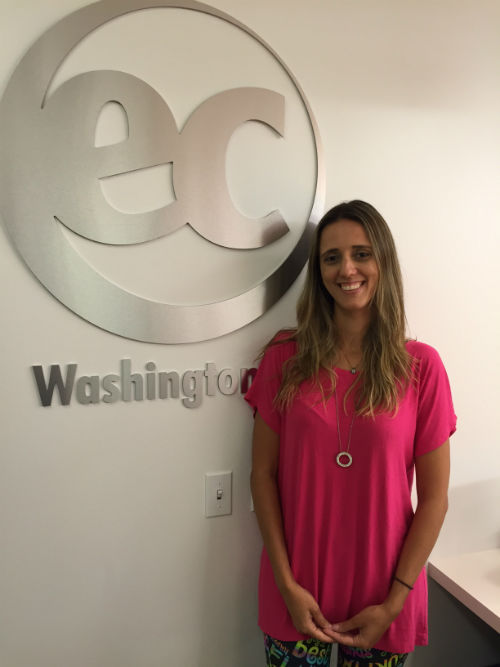 Why did you choose to study at EC in Washington, D.C.?
When I looked for school in Brazil, agent told me it was a new school, we have a good reputation. I liked that it was new because I would have a chance to study in small classes and it was better. Now that I'm leaving, I thought that I made the right choice. Maybe in another school I would be with 15 or 20 students, it's not good.
What was your favorite part of studying at EC?
I like everything here – the chance to be – we have two teachers, not only one. You have two different views of the same subject. I like the tours here – since we are few students, we are close to each other. That's a good thing too.
What kind of activities did you do in Washington, D.C.?
I liked going to Kennedy Center, the tours with Barbara to Georgetown, National Mall.
What was your favorite part of Washington, D.C.?
We had the facility to walk in the streets. The transportation is good – you can use metro, bus, walking, because the city is not a big city. It's easier to do happy hours and tours here – to feel close to other students. It's easier than in a big school or big city.
How were your fellow students at EC?
I liked them – When we went out to dinner, we have to speak English with eachother. I liked having Dutch, German, Chinese students – we have to figure out what they were saying! Our challenge here is to not just learn about language, but learn about other cultures – you have this opportunity here, because in our country you don't have this opportunity. In all my life, I met only one foreign person before coming here.
What will you remember most about your experience?
I think my first week. Because it was very difficult (laughs). I wasn't able to speak in that time – today a little better. That feeling made me sad because I wanted to talk and express myself and I couldn't. And it is frustrating. But the teachers, Carol, Barbara talked with me – told me "you have to be patient" – you can't solve your problems in a week.
I know my speaking is not brilliant – but when I compare to the beginning, it's much better.
Learn more about EC Washington English classes.
Comments
comments