Talking with Hyesun Jeon made us, at EC Washington DC, very proud of our students and our school! Hyesun, shares her amazing international experience at DC, learning English and meeting lots of friends from all around the world!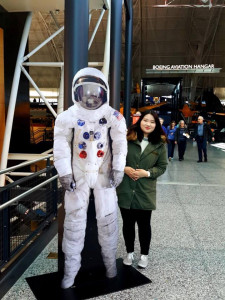 How long have you been studying at EC Washington, DC?
Since February 2016. For 9 months.
How would you describe your first week here?
I was very nervous. At that time, I didn't speak English very well. I remember I was very anxious about my performance in class and my interactions with other students.
If you think of your first week and your last, what do you think has changed?
Many things! First of all, my personality. During the first weeks I wasn't very open to meeting other people because I was shy and nervous. Now, I feel more confident talking to people I don't know and make friends.
What helped you become more confident and adjust to your new life here?
Firstly, in EC Washington DC, I improved my English skills, so, I felt more comfortable meeting new people. Also, I made a lot of friends through the school, which helped me adjust in the new environment. I have made one of my best friends in EC DC. She is from Taiwan and we still keep in touch, even if she is back home now. We have been learning English together and had an amazing time going out in the city.
Do you mind telling me some of your friend's nationalities? Which nationality you wouldn't expect meeting people from?
The last 9 months in EC Washington I met people from all over the world; Europeans, Asians, North, South and Central Americans and Middle Eastern. When I came to EC DC, I didn't expect to have classmates from the Middle East. I had never met someone from Saudi Arabia before and it was a very exciting cultural experience. At first, I didn't know how to communicate with them because we have many cultural differences, but now, I have learnt a lot about their country and their culture. In general, I have learnt to interact with people from other countries because of the international EC environment and I have been invited by my international friends, to places and experiences that I wouldn't even have imagined.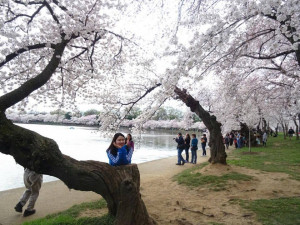 Who is your favorite teacher in EC Washington?
 Barbara and Daniel! They are both great teachers and they immediately understood the way I learn and the skills I needed to improve. I believe that they were meant to become teachers!
 Do you feel that your English has improved?
 Yes! Especially my Speaking and Grammar skills. Grammatical terms became clearer and the constant interaction with my friends and teachers helped me improve my speaking.
 Which are your favorite spots in the city?
The top of the Washington Monument had an amazing view of the city. Adams Morgan is a great place to go out in the evening. Also, every spring there is the National Cherry Blossom Festival at Tidal Basin lake, behind the National Mall. It is a beautiful thing to see!
What will you miss the most from DC when you go back to Korea?
The sky! In comparison to Seoul, DC's buildings are low and you can always look at the sky. But most importantly, I will miss my friends and the life in DC.
Why would you recommend EC Washington to new students?
First of all, because I had a great personal experience, both in the school and in the city. What I liked the most is that EC DC plans many interesting extra activities for the students and all the people working there are very friendly and helpful.
Comments
comments