Today, we are saying goodbye to a great student and a wonderful friend. Cagin Ebiri from Turkey, who has studied English at EC Washington for 9 months, is leaving our school, but will stay with us in DC, while he will be doing his MBA in Washington University of Virginia. We, at EC Washington, are very proud to see our students progressing and fulfilling their dreams. Cagin, we wish you the best of luck in your new educational experience and we are very happy that you have achieved your goals 🙂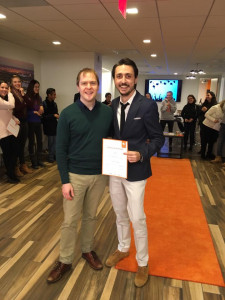 What did you like the most about the school, the lessons, our teachers?
Actually, I would say that the educational system in EC Washington is really really good. Because, when I came here I had a pre-intermediate level and now I am in the advanced class. So the school made me (!!), and I am very happy to have studied here. I can easily say that the teachers and the way you teach here at EC Washington is great.
What was your favorite EC Activity?
During the summer time we went to a jazz event at the sculpture park. That was beautiful, I love music and especially jazz. That was an unbelievable experience for me and I am really happy to have been there. 
Where did your friends come from?
Two of my best friends are from Switzerland. A couple of my friends are from Brazil, Italy and Korea. Before I came here I didn't know anybody from these countries. That was a great cultural experience. I would highly recommend EC DC to new students. Also, EC DC is the perfect name (like AC-DC 😉 )the coolest name I have ever heard before. So yes, I know for sure that studying here at EC DC has been one of the best experiences in my life!
I know that although you are leaving EC Washington, you are staying to attend a master's degree. In what level did your stay at our school help you pursue a university opportunity?
I will start my MBA in January at the Washington University of Virginia. If anyone thinks of doing a master's or bachelor's program in the USA or anywhere else in the world and needs to speak English fluently, I highly recommend that they come here at EC Washington and improve their language skills. When I came here, I wasn't able to speak like now, I used to have lack of confidence. Now, I am really comfortable communicating in English and I feel I can handle any situation. This has definitely helped me find the confidence to apply for a MBA and stay in the US for another 2 to 3 years. 
Thank you for choosing us and trusting us with your education. Good luck on your next big step!
Start your own journey to success, contact EC now for information on English courses in Washington DC.
Comments
comments