At Potter's House Caf
é 
& Social Space with EC DC students

Last Tuesday, some EC DC students visited a unique little coffee place called Potter's House. Located in the beautiful Adams Morgan area, Potter's House has an incredible selection of books about social issues, world history, activism, equal rights and much more.
After we found our spot in the coffee place and ordered some drinks and treats, the students explored the variety of books Potter's House had to offer, in search of two books that they would be interested in reading. Prompted by the titles and summaries of the books they had selected, they shared their thoughts and interests with our group.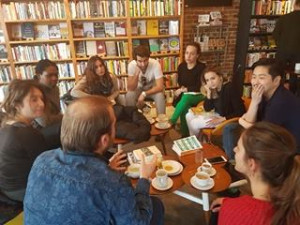 We had a wonderful time sharing ideas about numerous topics like the environment, political systems, history and social issues concerning all of us. We learned about each other's countries' systems and cultural norms, and got to improve our English speaking skills even more!
At EC Washington, our students practice English not only in the classroom, but at home and during our various weekly activities. Take a look at our Activity Calendar for this month to see what our students are doing!
Comments
comments