EC Washington, DC invites International Relations Expert to talk about Refugee Crisis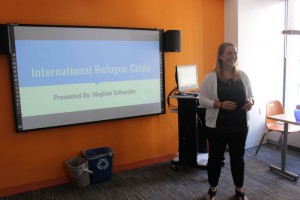 This Wednesday, our EC Washington, DC school invited Meghan Schneider, an international and public relations specialist to talk to our students about the international refugee crisis. Schneider has been an activist in many countries around the world and has been working with a variety of NGOs in the United States, including the Amnesty International. She has been advocating and influencing positive change for international and public policies. It has been an honor and a pleasure to have had her in our school.
During her lecture, she has informed us about the refugee crisis around the globe, how drastically refugee numbers are increasing and how it is an issue that concerns all of us. Schneider has also informed us about the ways we can help through donating to international organisations, which are trying to manage the crisis.
This past week, we have been receiving donations which will be given to the International Rescue Committee (IRC), an organisation that has been working with refugees and rescuing lives for more than 80 years.
EC Washington, DC, stands close to refugees and will always be a place where awareness is raised. Our school is an environment were our students learn English in the most influential way and keep up-to-date with what is happening around the globe. We are an International School and we care about international issues as much as we care about our international students.
Visit Washington Homestay page for more information about our school.
Comments
comments