EC Washington students attending lecture at Newseum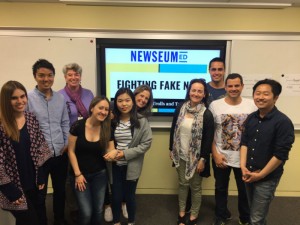 Today, the Advanced class of EC Washington, DC has visited the Newseum, DC's museum of news and media!
Our students have talked to us about their experience:
Erika, Semi-Intensive student from Brazil:
"We participated in a very interesting one-hour workshop with a professional teacher named Kim Ash. Kim trained us to identify fake and real news. She taught us some tricks to understand when news are fake."
Hyunsung, Long Term student from S. Korea:
"After Kim's lecture, we took part in a mini competition between us. Kim gave us ten news samples and asked us to identify which were real and which were fake. Toru and Valeria managed to guess right the most times!"
Robin, Semi-Intensive student from Switzerland:
"We also had an one-hour tour of the museum and we saw newspaper articles from 1800 until now."
The students have been assigned to describe their experience as a writing activity.
Here is what they wrote:
Valeria from Chile:

Robin from Switzerland: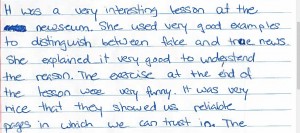 Hyunsung from S. Korea:

Toru from Japan: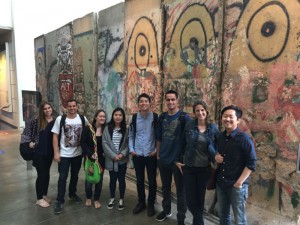 Comments
comments