EC Washington's Social Activity Calendar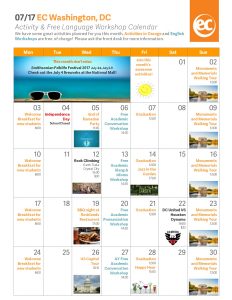 EC Washington, DC is located in one of the most exciting and young cities in the U.S. For this reason, we make sure to organize plenty of outdoor and indoor social activities for our students to get to know Washington, DC better! Every month our staff members conduct an activity calendar full of interesting things to do and see in the city. EC Washington's social program has guided tours to monument, memorials and important buildings of DC, dinners and happy hours with EC students and teachers, lots of sports to play or to watch and many many other super cool ideas for things to do all together!
Check out July's EC Washington Social Activities and see how we expose our students to the English language.
Comments
comments