EC Washington's Student Ambassadors!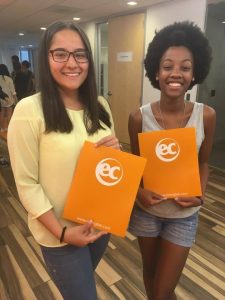 We are more than happy to introduce to you are brand new and full of joy student ambassadors!
Daniela from Colombia (left) and Livia from Brazil (right) are our new student ambassadors for EC Washington, DC! They arrive at school every Monday morning earlier than the rest, helping with the new students' orientation day. With their big smiles and friendly attitudes, they answer the new students' questions, introduce them to the rest of the student groups and ensure that they have a unique experience at EC DC.
Our student ambassadors give a small and flavorful insight to the new members of our school, on how fun it is to learn English at EC Washington, DC and how easy it is to make friends from all over the world!
Join our beautiful international community of EC Washington, DC.
Comments
comments