EC Washington, DC Students hit the Bowling Lanes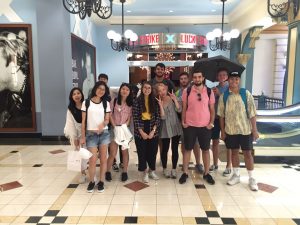 Last week, our new Director of Studies, Wasim Younis, got to know our students a little better when he led a group activity to Lucky Strike- a popular bowling alley in Washington, DC. For some of the students, this was their first time bowling, for others, it was a chance to show off their athletic skills in an unconventional way.
ESL Washington always makes an effort to provide many free, or low cost, activities for students. We believe this provides an ideal opportunity to make friends, practice speaking English, and partake in typical American activities.
This photo features some of our students from Taiwan, Thailand, Turkey, Saudi Arabia, The Czech Republic, Spain, and Korea. What an international group!
Comments
comments