EC Washington DC's Newest Ambassadors
At EC Washington, DC we always try our best to make new students feel welcome. That's why we carefully select Student Ambassadors who will go the extra mile to make all new students, regardless of English speaking ability, feel greeted. Our Ambassadors show up early to school on Monday, so they can introduce themselves to the new students, and talk with them while they enjoy coffee, tea, and donuts together. EC Washington English Center staff chooses our Ambassadors carefully; we make sure the students chosen for this role genuinely care about making others feel included. Our Ambassadors make sure all our new students know they have a friend who they can go to with questions, sit with during lunch hour, and hang out with on our many EC activities.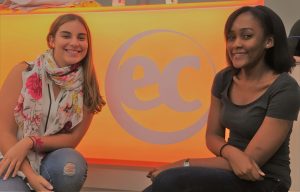 This month, we have Natalia Cuevas Cardenas from Columbia, and Bernardita Nsefumu Eyi Bindang from Equatorial Guinea. Both students have shown us they are willing to go out of their way to make everyone feel like they belong here. Being in a new country can be an intimidating experience, especially when you're learning the language, but it can certainly be made easier when you have a smiling face you can turn to. Thanks, ladies! 
Comments
comments