EC student wins tickets to DC United vs. New York Red Bulls Soccer Game!
Sooji, a long-term English student from Korea, has won two free tickets to the DC United final match, which takes place at the famous RFK stadium on October 22nd. How did she win you ask? Sooji completed three rows of EC Washington English Center academic and local activities on her EC BINGO Board before any other student! Some of these activities were: making a phone call in English, having lunch with a new student who doesn't speak your native language, and trying an ethnic cuisine you have never tasted.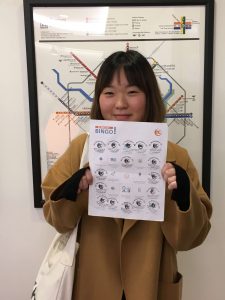 Here at EC Washington, we do our best to get students out in the city, and practicing their English skills in as many situations and scenarios as possible. Our EC BINGO Board helps them do just that, and rewards them with prizes for their efforts. Sooji gets to invite a guest of her choice, and together they will join EC Washington DC's Student Services Coordinator and Academic Director for a fun-filled evening of scoring goals, cheering, and of course- lots of traditional stadium food. Congratulations, Sooji! Excellent job!
Comments
comments