EC Washington English Language Center Students Help Children in Cambodia
This week, EC Washington English Language Center is hosting a fundraising activity to raise money for young students in Cambodia. Years ago, EC English partnered with United World Schools (UWS) to raise funds for the Cambodian school that opened in 2016. EC has helped provide clean drinking water to the area, and funding for a three-room school to the children of Ban Houy- which is a small, remote village that is home to 165 children and their families . In 2017, a group of EC volunteers flew to Cambodia for 10 days to meet the children, spend time with local families, and encourage the children to attend classes.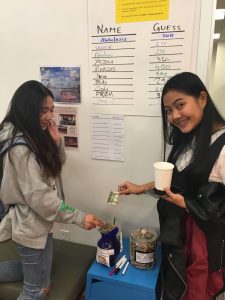 This year, we want to give back again. EC English has promised to match 50% of all funds raised at EC Washington English Language Center. To get our students excited and involved, we have set up a candy jar next to our donation site, filled with a specific amount of candies, that only EC staff knows! When students donate to the charity, they can enter a guess as to how many candies are in the jar. The student whose guess is closest to the actual amount, will win the jar full of candy. This Friday at graduation, we will announce the winner, and present them with their prize. As reminders of what we are doing, we have placed posters around the school that explain what case we are raising money for, and why. We are so grateful to everyone who has donated, and we're sure the students of Ban Hoy, Cambodia are too!
Comments
comments