EC Washington English Language Students Cheer For DC United!
Yesterday evening, six students, along with our Academic Director, Wasim Younis, met at the Capital One Arena for an evening of pushing, slamming, and high-speed aggressive behavior. Not among themselves, of course, but among the hockey players.  The D.C. Capitals were playing the Philadelphia Flyers, and it was a game to remember! For many EC Washington English Language Center students, it was the first experience of its kind.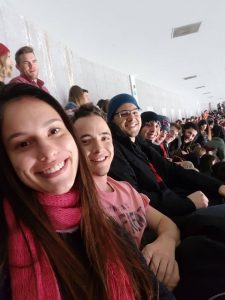 Yuri, a student from Brazil, recounted the following: "It was my first hockey game, I'd never seen one, not even on t.v. It reminded me of soccer, which is very popular in Brazil, but no one plays hockey. There was a fight between some of the players. It was a good game with many goals.  I would recommend it [as an activity] to other students, its a different experience from what I am used to." After a rocky start, the D.C. capitals came from behind and tied the Flyers 2-2, and at the end came out victoriously with a score of 5-3. What an exciting game!
Comments
comments