EC Washington English Language School students bond over breakfast
EC Washington English Language School's Director, Amanda Ross-Gomez, who is based at EC Miami, was in the district for her second visit since January. A whole new group of students got to meet her, ask some questions, and enjoy the mid-morning break over a complimentary breakfast, provided by EC. We recognize that sometimes Tuesdays can be a bit of a drag. The weekend seems SO far away! That's why we like to treat our students to bagels, muffins, pastries, and fresh, hot coffee every once in a while. It perks everyone up, and is a great opportunity to get to know the EC staff members a little better. Students from many different countries sit together, chat, and enjoy each other's company.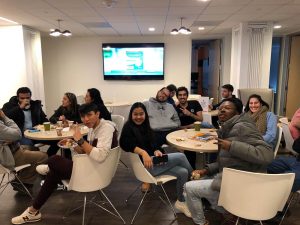 At EC Washington English Language School, our goal to always make our students feel comfortable and appreciated. We hope our complimentary breakfasts help demonstrates that. Thank you to all our students and staff who made this month's breakfast a great success. We are all very excited for this month's upcoming activities, including an EC movie night, game and card night, day trip to the African Art Museum, dinner at a local restaurant, and a football/soccer viewing night!
Comments
comments