EC Washington DC Students Enjoy film together
Not all activities have to be out of school- sometimes it can be more fun, especially in this cold, rainy February weather- to hangout at the school after classes, and watch a popular movie on our big screen t.v. We want all our EC Washington English Language School students to feel at home here, which is why we've started playing movies after class at 2:30. We provide popcorn, soda, and other snacks, and the students have a great time just hanging out, watching films (in English, of course).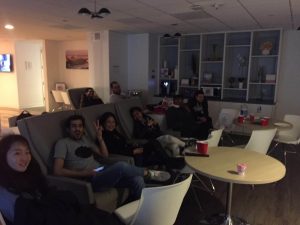 We always have the students vote on what they want to watch. So far the most popular choice has been the Harry Potter franchise, which is magical in any language, but today it will be King Kong. Our student lounge also has a coffee machine, chess board, deck of cards, and other games, and tons of great, local magazines and books. At EC Washington English Language School, we love having our students stick around after class. We're all friends here.
Comments
comments