EC Washington students cheer at Barcelona vs. Chelsea match
Wednesday after class, EC Washington English Language Center students walked together to a local restaurant and bar to watch a much anticipated soccer game- Barcelona vs. Chelsea. Students had their favorite teams and players, including the larger than life player, Lionel Messi, and cheered together over good food and drinks. This was by far one of our most popular activities this calendar year! Over half of our students attended, and had an awesome time. We normally play sports games in the Student Lounge, but this was a great way to shake things up and experience a little more of DC culture.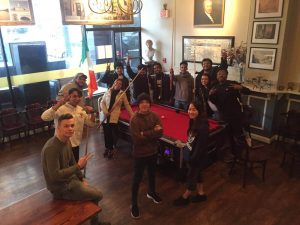 After the game, students played pool at the billiards located inside the restaurant. This activity was led by the Director of Studies, Wasim, and the Student Services Coordinator, Gabrielle, who both had an excellent time hanging out, and getting to know the students in a more casual environment. Restaurants and bars are a great place to practice English outside of the classroom, especially during Happy Hour! Everyone is a bit more relaxed, and can enjoy themselves, while speaking in English with their classmates, EC staff members, and the restaurant servers. Here at EC Washington English Language Center, we always want to make sure students are getting the most out of their experience in Washington, DC. We are so thrilled that everyone came out for this activity. We will definitely be returning soon.
Comments
comments