New students!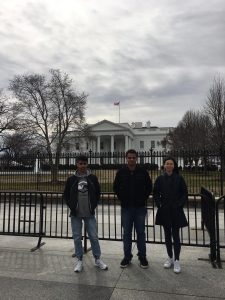 We always love welcoming new students to our school on a Monday morning. This week, we said hello to Abdulrahman (Saudi Arabia), Jiaqi (China), and Thales (Brazil). Another mix of diverse cultures, ready to join our learning community.
Thales will be here for 6 months while he works to imprvoe his English while visiting his uncle in Bethesda, MD. He loves sports, especially soccer, and is a Palmeiras fan, like one of our teachers, Natasha! He is also very knowledgeable about computer games, so challenge him to a game of Gran Turismo! Welcome, Thales.
Abdulrahman is here for one month, staying in our beautiful Crystal Plaza residence. Welcome, Adulrahman!
Jiaqi starts with us for one week; she is currently deciding whether to study engineering or psychiatry at college. We hope she finds her new environment an inspiration in making that big decision! She is staying with her aunt in Maryland before her parents move here permanently. Good luck, Jiaqi!
Our new students brazed the cold weather to check out the White House, which is only a 5 minute walk from our beautiful English School Washington DC, so why not check us out online or visit our center today? We would love to show you around! 
Comments
comments