Welcome to Washington!
Today, we welcomed three new students to our English language school in Washington, DC. They are such a friendly, enthusiastic group, it was a pleasure to show them around their new school surroundings, including the White House (pictured).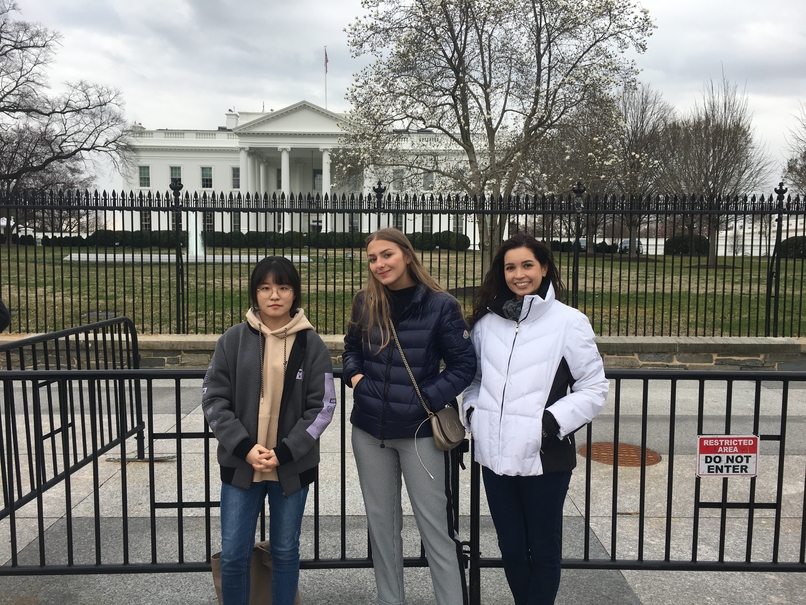 So who are these new students? They're quite an interesting and diverse mix, as always!
On the left is Eunjung, a Computer Science major from Korea. She has a twin brother and enjoys watching animal videos on YouTube! Eunjung is staying in one of our official EC homestays, living in DC with an American family.
In the center is Alejandra from Venezuela, who is only 17 years old but has a wealth of travel experience already; she recently completed a language course in Boston. She is staying in our beautiful student residence, Crystal Plaza, and has already been impressed by her elegant new home! Alejandra has also lived in Miami so she is excited to be studying in a location with fewer Spanish speakers. 🙂 Alejandra studied architecture loves playing tennis and watching TV series.
Lara was already living in Maryland with her family friend, and decided to enroll in classes at EC after visiting our center last week. She is a dance expert from Brazil who received a scholarship for her ballet skills when she was in college; maybe she can teach our students some moves! She studied psychology at college and is very excited to explore this amazing city.
This could be you!
You could be starting your own English course with us too! Get in touch with us today to find out what we can offer you when you study English in Washington. give us a call at 202-695-5373 or email washingtondc@ecenglish.com 
Comments
comments