It seems like there is a celebration every day at EC Washington DC, and lots of cake to go along with it!
March is a busy month for birthdays, and yesterday was the turn of Natasha, one of our teachers, to enjoy a small celebration arranged by EC staff and her students.
While EC got Natasha a slice of cake and a birthday card signed by her fellow teachers and students, her students from Saudi Arabia went even further and bought her a huge cake with her name on it! We turned off the lights and surprised her at the break time; Natasha was overwhelmed by the love her EC family showed her.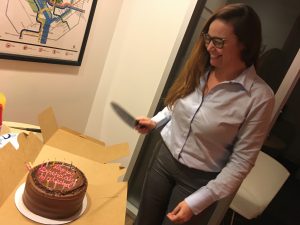 Natasha joined EC last year and has fitted in to the community straight away. Having taught in Brazil, EC is one of her first teaching assignments in the US, and I think she has been positively impressed by how engaging and enthusiastic our students are. Certainly, she was impressed by their choice of cake!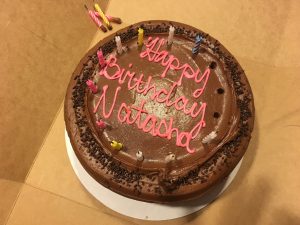 We would like to thank our wonderful students, especially Nouh, Khalid, Nawaf, Osama, Adel, and Muhannad, who took the extra time, effort and expense to show their appreciation for Natasha. Thanks, guys!
EC is a special school and our Washington DC center is the definition of a tight-knit learning community. If you want to Learn English in Washington, there is no better venue than EC Washington DC! Come visit our center and see our teachers and students in action, Monday to Friday. Why not give us a call at 202-695-7353 or email washingtondc@ecenglish.com, to find out more about our programs or arrange a free trial class!
Comments
comments