When I was 25 years old, I still didn't know what I wanted to do with my life. I had graduated from college with a degree in Civil Engineering, but I didn't feel like an engineer. I was curious to find what I was really passionate about. So, I enrolled in the CELTA program, a training and certification course for those who may want to teach English as a foreign language.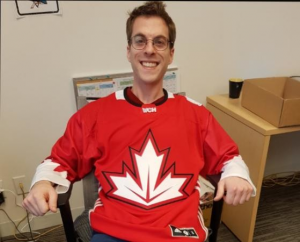 Fast forward 5 years later, and I am the Director of Studies here at EC Washington DC, and it has been an incredible journey with EC so far!
EC origins
My first opportunity to teach came at EC San Francisco, who offered me part-time work before making me their Lead Teacher at the end of 2014. I loved working and living in the Bay Area, and EC SF will always have a special place in my heart for the wonderful staff and students I got to work with. In particular, teaching the Cambridge Exam classes were a real joy and the memories from that time will live with me forever.
Next, I went to work at EC Toronto, one of our centers in Canada, as an Assistant Director of Studies. Toronto could not be more different from SF! Cold, snowy, and with a huge school of over 500 students. Despite the weather, the school had such a warm and welcoming atmosphere that I loved every minute of it. My next EC assignment took me to Washington, DC, in July 2017, where I have been ever since. I knew very little about the city before I moved here, and was expecting a lot of old people wearing suits (DC is the center of government, after all!). But, to my surprise, DC is a wonderfully diverse city with lots of beautiful neighborhoods and all kinds of engaging things to do. I'm so lucky to have lived in three major US cities thanks to EC, and I take great pride in showing guests and new students around this amazing location.
Away from school, I can usually be found playing guitar, exploring DC (on foot, because I love walking!), or watching soccer. I am originally from England, so soccer/football is in my DNA! Music wise, I started playing bass guitar when I was a teenager and first heard the music of New Order; then I started playing guitar when I realized I had no one to play bass with!
I love working with EC because of the awesome people I get to meet every day. Whether it's students or staff, EC attracts the best kinds of people. I am enormously appreciative of the many incredible students I have had the privilege to get to know during my 5 years at EC. Helping them make the most of their time at EC is the most rewarding aspect of my life!
If you want to study English in Washington, it would be my pleasure to help you find the course that is right for you! Email washingtondc@ecenglish.com or call 202-695-7353 today for more information.
Comments
comments