Joisel, one of our recent graduates, was one of our first ever students from Cuba, and he has been a memorable member of our student community for a host of other reasons. We will miss his presence very much, but we are happy to share a few words from the happy graduate on his time at EC Washington DC: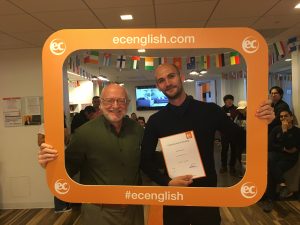 "I chose EC Washington DC because I recently got married and wanted to improve my grammar and speak with confidence in English. After my month studying here I have learned new techniques in writing and improved my reading skills.  I know feel more confident to speak to others in English.   EC Washington, DC has a great program with amazing teachers. There is a great mix of nationalities at the school.
Taking Notes with teacher Yesenia was my favorite class.  She helped me, and the other students practice our pronunciation of words, and using the rhythm of the music to hit the beats of the words and phrases.   The class helped me build more confidence, by allowing me to sing in English in front of the class.  I also enjoyed being able to learn outside of the classroom.  Teacher Renee took me and my classmates to a lecture series about Ethics and Technology at The Brookings Institution.  Being able to leave the classroom and listen to foreign policy advisors and government officials talk about issues in the world is an experience you can only get here at EC Washington, DC.
I am going to miss everyone.  EC Washington, DC is a healthy place to learn with an inviting atmosphere for everyone.  I made a lot of friends from all over the world and will make sure to keep in touch and visit them."
Join students like Joisel for English classes in Washington DC! Come in for a free trial class at our beautiful Farragut Square center. Call us at 202-695-7353 or email washingtondc@ecenglish.com.
Comments
comments