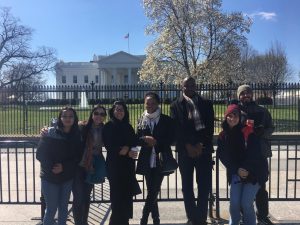 Today, we welcomed seven new students to EC Washington, DC.   We had a wonderful time showing them around their new surroundings.
Our new students include:
Anita, an English teacher from Chile  will be studying with us for the next 4 weeks.  Aida Lorene, who is an accountant for General Motors in Colombia.  She will be calling EC Washington DC her home for the next 12 weeks. Tarciana, from Brazil is staying at our student residence, Crystal Plaza, and plans to study with us for 6 weeks. Odia Nicole and Emmanuel are both Human Rights defense lawyers for the Democratic Republic of Congo.  They stopped by EC Washington DC this morning, and were so impressed they decided to enroll for 3 weeks, and are also staying in our Crystal Plaza residence..  Thais and Matheus both come to us from Brazil and will be studying with us for 4 weeks.
Are you interested in taking English Lessons in Washington?  You can email us at ecwashingtondc@gmail.com or call us at 1-202-695-5373 and ask us how you can study here.
Comments
comments