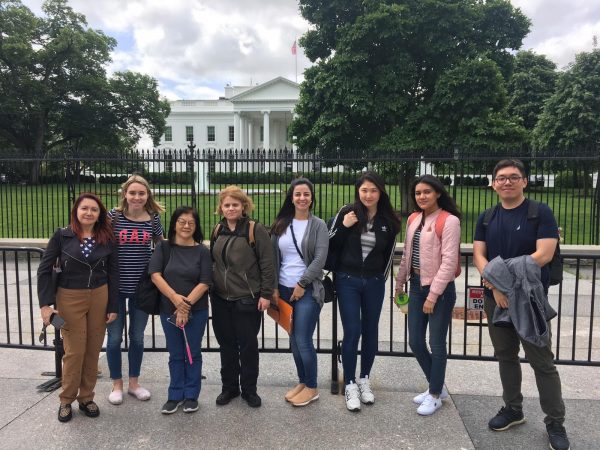 We are always delighted to welcome new students to Washington DC – the Nation's Capital.  This week we welcomed eight new students to the EC DC family.
Maria Iraneida is a Public Prosecutor from Brazil and an author of two poetry books.  During her free time she loves to travel, watch movies and listens to music.
Rahel is an Administrative assistant from Switzerland. She is a member of an association for carnival musicians, which she plays the wooden blocks.
Mituya is a doctor from Brazil and has studied at two other EC schools.  She loves traveling the world, and hopes to learn all about American History while studying here.
Flavia is from Italy and enjoys all the free museums that Washington DC offers.
Daniela is also from Brazil and works for the company Johnson & Johnson and loves dogs.
Eunjeong is from South Korea and will be studying with us until August.  When she finishes here she will be starting college in Alabama where she will study engineering with a focus on air and space.
Jazmin is from Ecuaduor and will also be studying with EC DC for three months.  She will be going back to Ecuador in August to start her university program in Education with a focus in adolescence.
Chiahsun "Pippen" is from Taiwan and loves sports.  During his short time here he has already been to four Nationals games and one DC United game. Chiahsun also enjoys cycling, and hopes to ride his bike to class everyday.
Would you like to become part of the EC DC family and improve English in Washington?  You can visit us at 1025 Connecticut Ave NW if you are in the DC area.  You could also contact us at 202-696-7353 or email us at washingtondc@ecenglish.com to book today!
Comments
comments