One of our Advanced students at EC Washington, Henry from South Korea, reviews one of the most tried-and-tested ways of brushing up on your English: by watching the classic TV sitcom, 'Friends'! 
There are few things in life that are good to finish my day than watching the TV show 'Friends'. Watching how six characters make harmony and intertwine together, I couldn't help but laughing and smiling. Thanks to that, I can fall asleep peacefully.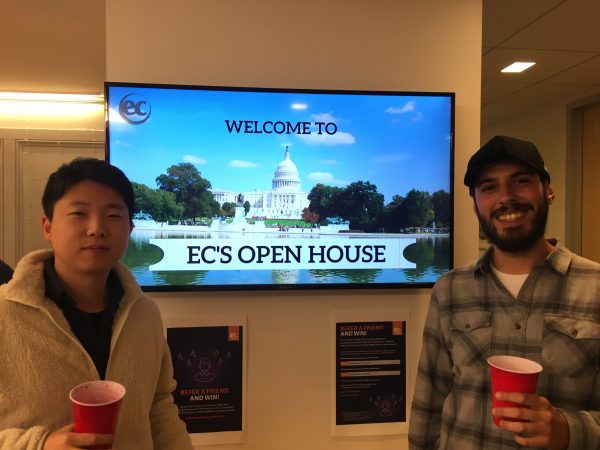 The first time I knew 'Friends' was from my friend's recommendation. She arrived the U.S four months before me and I asked her to recommend a good TV show to study English. Then she, with no little hesitation, recommended 'Friends' by saying that you can catch two rabbits at the same time: English study and Fun.
As she has lived in the U.S. longer than me and her English was pretty good so I decided to take her choice. Honestly, I couldn't find any laughing points and any reasons why she recommended this bland TV show. However, by the time I reached the seventh episode or so, I could finally realize why she recommended.
Once I get used to each character's accent and personality, my understanding of whole episode improves which enable me to laugh with American audiences; in 'Friends' audiences laugh at certain points along with characters when they played a certain role or made a joke.
'Friends' is especially good for ESL learners because the characters used colloquial and everyday English. If someone watches all the episodes and become familiar with each expression, probably they have no problem talking and listening with native speakers. Furthermore, as each episode's running time is only twenty minutes, people can watch them without so much pressure.
Now I reached the point where I cannot sleep without watching 'Friends'. Still,  I sometimes have a hard time understanding what they are saying mostly because such humor is based on American things. But what I like most about 'Friends' is not the joke but the friendship between six characters. I heard news that 'Friends' movie will be released in 2019. I can't wait to see how old characters show their chemistry in the movie.
I personally think this is a kind of must watch TV show before you die especially if you are ESL learners.
Comments
comments