Alongside our English classes in Washington DC, we also encourage our students to take an active role in the school by becoming student ambassadors. One of our best representatives is the amazing Thales from Brazil, who is the perfect example of someone who is making the most of his time here in Washington. Thales takes over today's blog with his experiences of going to a baseball game, which of course is very different from the typical F1 or soccer games Thales usually enjoys! Here is Thales with his story: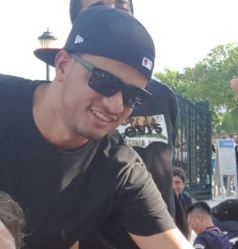 Hello everybody!
Today I'm going to talk about a new experience that I had last Sunday (19). I went to Washington Nationals x Chicago Cubs (Baseball) on the Nationals Park. It was a totally new experience, Brazil is well known as the country of soccer, even though on the last four Wolrd Cup we underperformed (sometimes more than anyone would expect), so I've never had contact with this sport.
When the game started, I was trying to understand the rules. For me, the Nationals was beating the Cubs. However, after a father and a daughter, they were sitted at my right, explained to me the basics rules I noticed that the Nationals was losing the game! My new friends were very kind, they had a lot of patient to make me undeserved the situations.
So, to enjoy properly my experience I needed to use my English skills after all they were native speakers explaining me a sport that I never had a chance to even understand the rules. If I had this experience when I arrived the USA, certainly I hadn't enjoyed it, because my English wasn't as good as now.
To put it shortly, the immersion focused on the English language will help you a lot to have good experiences abroad. And EC DC can help you to achieve this objective.
Best regards,
Thales Ribeiro
—
Find out more about EC Washington's academic program by calling 202-695-733 or emailing washingtondc@ecenglish.com. If you are in the area, come visit us at 1025 Connecticut Avenue NW to see what we can offer you!
Comments
comments