Our prolific blog writing ambassador, Thales, visited another of DC's many fun attractions recently, and he shares his experience below! Thales is at EC English Washington where he currently studies an Intensive English language program. Learning a language can be a bit of a rollercoaster ride, so it's a fitting topic that he writes about this week:
Amusement parks are well known from the feelings that they make us feeling. In few minutes you can feel scary and in another you can feel excited.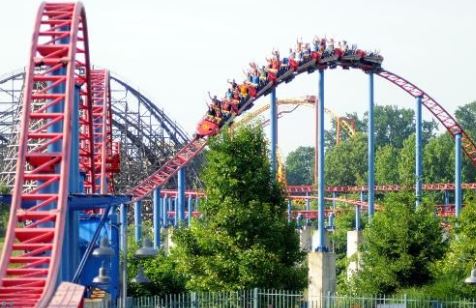 Near to Washington D.C. we have the Six Flags (BOWIE), it is an amusement park known by it roller coasters. I went there with some students from EC, it was a great day! It was my first experience in a roller coaster park (in Brazil we just have 2 amusement parks), so I was anxious for this experience.
As the weather in D.C is getting hotter, a lot of people usually do this 'hanging out', so I was afraid that the fast pass would be required. But, arriving there we walked around the park and noticed that it wasn't necessary, lucky for us, we saved 35 usd.
Well, for me the best rollercoaster there was the Super Man, its tall, fast and has a lot of curves. During the time that the car is going up, I started regretting and complaining: Why am I here??!?!?
But, when it started going down, was amazing!
Each of other rollercoaster has their own good points (speed, tall, curves…) in general, they are all good.
The funniest part is when you can hear your friend, during the 'apex' of each attraction, praying, it was really funny!
Eating in this kind of places sounds expensive, actually really is. But, you can find good meals for a good price. Although, the less you eat the better it is for you, because eating a lot you may get exposed to have some bad moments (kkk).
So, this 'trip' is really good for the weekends, I suggest that everyone needs to do it at least once in a life time, was my first time and it will be unforgettable!
Comments
comments