June is graduation season, and EC Washington is no different! We are surrounded by some major American and international universities, such as Georgetown, American University, University of Maryland, George Mason,Johns Hopkins, and Howard University, just to name a few, and if you walk around DC in June you'll see their students taking photos around town in their graduation gowns. While our graduation is a smaller affair, when students graduate from EC English Washington we make sure they don't forget their special day!
Friday last week saw 4 students graduate from our learning community: Alejandra (Peru), another Alejandra (from Venezuela), Hanna (Korea), and Jorge (Ecuador). As is customary, we took some photos with the students, including the group photo below which shows off all of our students and teachers as a community of like-minded souls, all enjoying their time in DC and finding meaning in their experiences by untapping their English potential.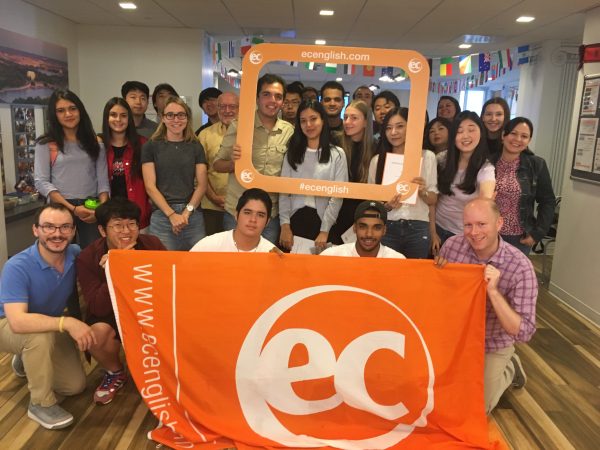 In the photo above, you get a sense of how close-knit our community is, as well as the incredible mix of nationalities: Ecuador, Colombia, Brazil, Peru, Saudi Arabia, Thailand, Japan, Chile, Taiwan, Korea, Finland, Switzerland… I could go on and on! Washington DC is an international city and EC Washington is certainly a prime example of what can happen when people from all over the world unite over a common goal. This graduation event was special because it was combined with a celebratory Pot Luck event, which you can see in a separate blog post, but we host these events every Friday at 12pm and if you would like to see our school for yourself, it is a great time to come in and meet us!
To find out more, get in touch with us at washingtondc@ecenglish.com or 202-695-7353. Come and join a future graduation event like this one!
Comments
comments