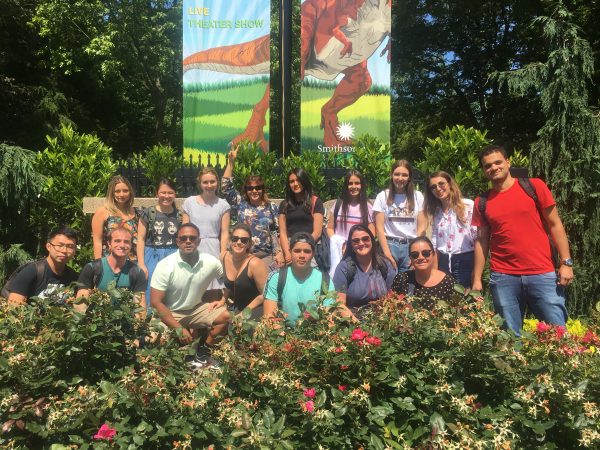 Washington DC is home to the beautiful, sweeping campus of Smithsonian National Zoo, which is free of charge and open 364 days a year. It also happens to be located in one of the most gorgeous DC neighborhoods, Woodley Park, sandwiched between Adams Morgan and Cleveland Park, two other lovely spots.
EC Washington's location is simply perfect, in the heart of Farragut Square, which makes these neighborhoods very easy to get to, but a lot of our students are not sure where to go or how to explore these areas away from the school. That's why our social activity calendar is a source of guidance and encouragement for our students to get out and really take advantage of being in this incredible city while they study English.
So yesterday, EC Washington students, accompanied by Wasim the Director of Studies, took the short Metro ride from Farragut Square to Woodley Park to visit the zoo. We had a huge group of fantastic students! The group photo above represents a snapshot of what EC's student population is all about: a range of cultures and countries represented, such as Ecuador, Brazil, Bolivia, Japan, Taiwan, Finland, Switzerland, Chile, Italy, and Colombia… wow! Where else can you get such a mix of curious worldly travelers, all united by the goal of improving their English in order to succeed in a global community.
The day out was a great success, although some students were surprised how big the zoo is and found it to be a lot of great walking exercise! We saw tigers, lions, panda bears, a komodo dragon, and my personal favorites, the orangutans and gorillas. These FREE attractions are another reason why Washington is so popular with travelers, and EC's organized social trips are a good reason why you should explore DC with us! These activities happen every week and a perfect supplement to your classroom lessons and a great way to make connections with your classmates. All this is why your English school Washington DC should be EC Washington!
After you check out our official website (www.ecenglish.com), make sure you get in contact with us to find out about our course discounts! Simply email washingtondc@ecenglish.com or call 202-695-7353. Or visit our center at 1025 Connecticut Avenue NW, Suite 701, and we can offer you a free trial class!
Comments
comments