Google: define "bookworm" 
Now, Google will tell you that a bookworm is literally an insect that eats the pages out of books! But in colloquial English, it more often refers to someone who loves reading.
While getting students to talk is usually no problem (sometimes they just won't stop!), encouraging students who study English in Washington to take responsibility for their reading level is more of a challenge! To some younger students, reading is limited to social media posts, while for our older students it's a bit of a forgotten skill, but that's where EC's reading library comes to the rescue!
Our lead teacher, Martin, has been hard at work modernizing and revamping our reading library, and it is coming along nicely! We are proud of our collection of graded ESL readers, authentic English texts (such as Game of Thrones, Harry Potter, and some great non-fiction titles), as well as the magazines we have to choose from, such as Washingtonian and National Geographic.
Martin spent part of his weekend checking out a used book store in nearby Baltimore, and returned to EC with a bounty of books to add to our collection! These are some of the classic titles that American students grow up reading, so they are perfect for our students to sample authentic, relevant reading material.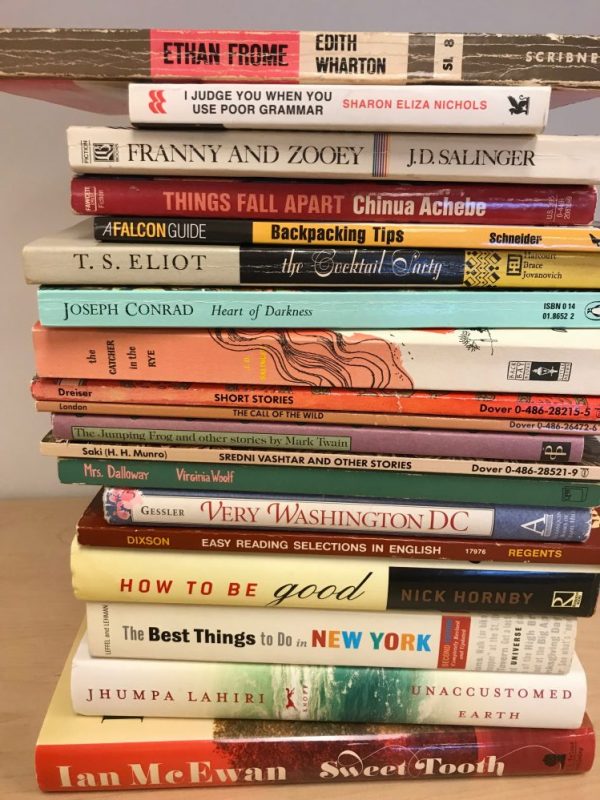 Some of these titles give me flashbacks to high school… I read Ethan Frome by Edith Wharton back in 11th grade! Josef Conrad's Heart of Darkness is an assigned text in many college classes, I took it as a freshman! in the picture above, you might know some of the titles Martin was able to bring back, but I'm sure there are some you haven't read before!
The point here is that improving Reading skills is important for all of our students, and it becomes so much more enjoyable when the reading text is inspiring, enlightening, and relateable. We love seeing our curious students take advantage of all the resources we have on offer.
Comments
comments