How do you say goodbye when you have finished the experience of a lifetime? When you Learn English in the United States of America, you should expect an unforgettable experience that will change you forever. We are proud that our students here at EC Washington DC certainly seem to feel this way! We know this because of the beaming smiles and heartfelt messages that we see on graduation day at EC.
Every Friday, we say goodbye and good luck to our graduating students. While this is always a bittersweet occasion, last week there was not a dry eye in the house as we said goodbye to our biggest ever tally of graduates! And what popular graduates they were. We had some short-term students along with some longer-term members of our learning community. All in all, we had 22 students who were completing their courses with us; it is difficult to put into words how much emotion and mixed feelings were in the air last Friday.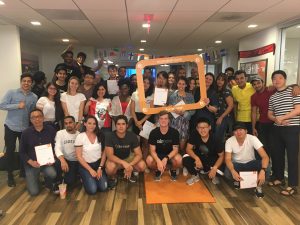 Some of our students were here only for a few weeks, such as Maggie from Peru and Fabio from Brazil. Others, like Weiting from Taiwan (49 weeks!) and Ryo from Japan (over 6 months), had become like 'part of the furniture', as we say in English! The students who are here for a short term very quickly build up a strong connection to the school, such is the close-knit feeling and strong bond formed by our learning community. It's truly heartwarming to see students get emotional as they give their speeches to acknowledge their teachers and classmates.
You could be part of our next graduating class! Whatever your goals or background, we have a place for you here at EC if you would like to continue your ESL journey. Pleae get in touch to find out more and see if our learning community is right for you!
Simply give us a call at 202-695-7353, email us at washingtondc@ecenglish.com, or even check out our beautiful center at 1025 Connecticut Avenue NW. What are you waiting for?! You can start as soon as you are ready to improve your English!
Comments
comments